Quality Management System & ISO 13485
The ISO 13485 is a harmonized standard, which lays down the requirements for quality management systems (QMS) for medical devices.
Medical device manufacturers have to therefore, above all, according to ISO 13485 be certified, because according to Appendix II of the Medical Device Directive MDD they can explain the compliance of their products themselves. For medical devices which incorporate software or standalone software, the IEC 62304 also demands a QMS and recommends an ISO 13485.
The validity of the quality management system will be examined by external auditors ( usually notified bodies ) and internal audits ..
FAQ "ISO 13485 and QM-System"
Question 1: Do I need a (certified) quality management system?
If your product is NOT in class I, you most probably need a certified QM-system. Only conformity assessment procedures based on MDR Annex IV (EC verification) respectively MDR Annex XI part B do not require a certified QM-system. However, this approach is rather the exception.
If your product is in class I, there is QM-system demanded by MDR and by IEC 62304. But this QM-system does not have to be certified.
Question 2: I already have a ISO 9001 certificate. Is this sufficient?
No. If you need a certified QM-system (see question 1), only a ISO 13485 certification is sufficient to prove compliance with regulatory requirements.
Question 3: Who may certify my QM-system?
Only notified bodies my certify your QM-system. They have to have the accreditation for "Annex Certificates".
Pay attention that you do not pick a certification body that "only" may certify ISO 13485 compliance.
Question 3: How long does it take to establish and certify a QM-System?
Typically it takes between six and nine months between project start and audit respectively certification. Currently the availability of notified bodies is an issue.
Small and medium sized companies have to invest 30 to 50 person days. However, operating a quality management system requires continuous efforts to audit, to improve and to re-certify the processes respectively the system.
Question 4: How does the Johner Institute support the certification process
The Johner Institut is specialized on establishing, improving and preparing QM-systems for audits. All of our customers, we are talking about hundreds, successfully passed audits. With no exception!
ISO 13485 and other QM-Systems
Quality management in general
The aim of the QMS is to constantly improve the quality of products or services offered by a company to its customers. The ISO 9000 (and thus also the ISO 13485) defines quality as the degree in which a set of inherent characteristics is fulfilled. This involves, above all, the requirements of customers.
The approach of the QMS such as ISO 9001, ISO 13485, or EFQM KTQ to meet these requirements, is to define standardised processes to ensure that the requirements are precisely applicable, and that products or services are developed and produced in a suitable way. For this purpose - an additional demand of many quality management systems - companies need to provide appropriate resources such as people and tools.
Regulatory requirements for the Quality Management
Medical Device Directive and ISO 13485
Medical devices must undergo a conformity assessment procedure before they are sold. Depending on the class of medical devices (I, IIa, IIb, III) a certified QMS is mandatory.
For medical devices, the ISO 13485 is the harmonised standard. This means that QMSs, that are not certified to ISO 13485, but to a different standard or no standard at all, do not meet these requirements of the Medical Device Directive.
ISO 13485 and IEC 62304
Manufacturers of medical devices which incorporate software or standalone software must meet another legal requirement: The software must be developed for life cycle processes. The fact that this requirement is met, is usually proven by medical device manufacturers in complying with the IEC 62304. This standard in turn requires a quality management system and recommends a standard ISO 13485.
However, there is neither a normative requirement that the manufacturer's quality management system must be compliant with the IEC 62304, nor that it even has to be certified.
Requirements according to ISO 13485
The ISO 13485 is titled Medical Devices - Quality management systems - Requirements for regulatory purposes.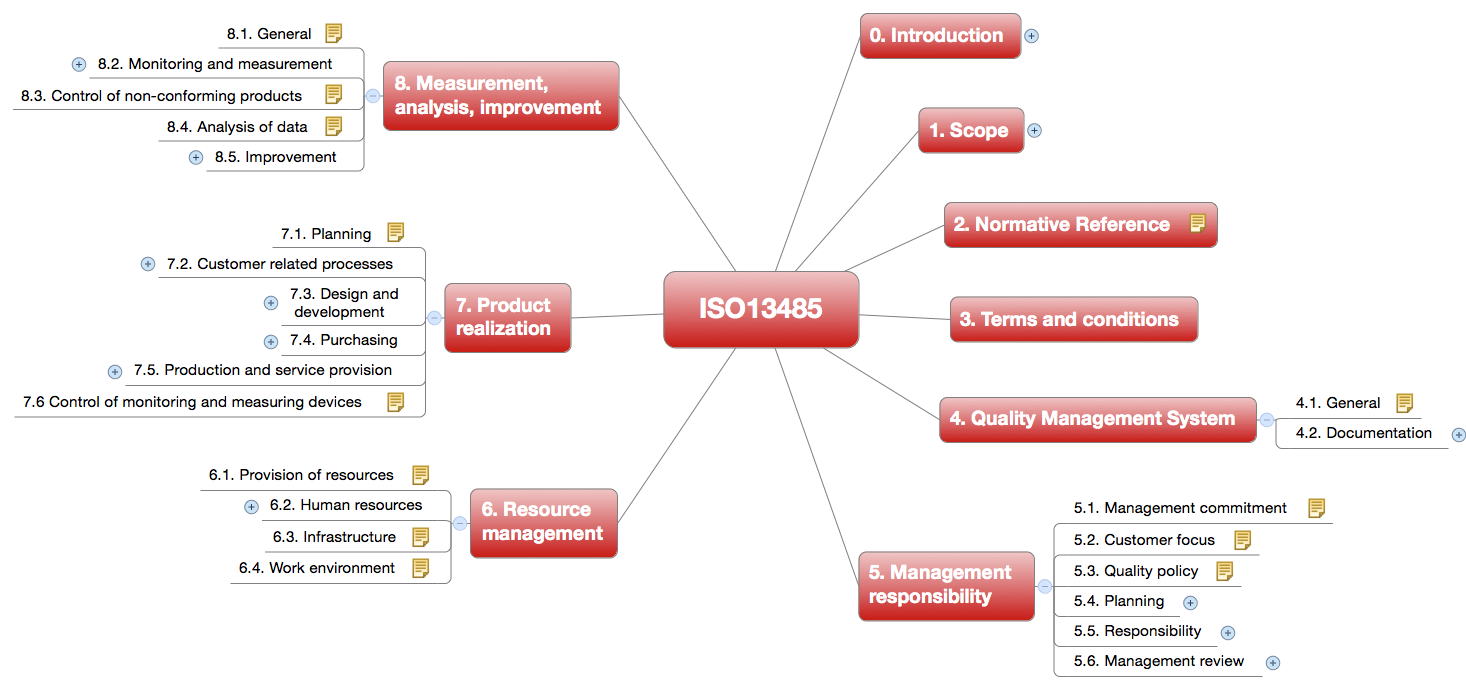 As you can see, the ISO 13485 defines four major process areas:
Management responsibility
Management of resources
Product realisation and service provision
and measurement, analysis and improvement.
Mind you, these are process areas, not processes. Each of these process areas of the ISO 13485 must include one or more processes and the need to define the medical device manufacturers for example in the form of a procedural instruction. For a software company, the assignment could for example look (partly) like this: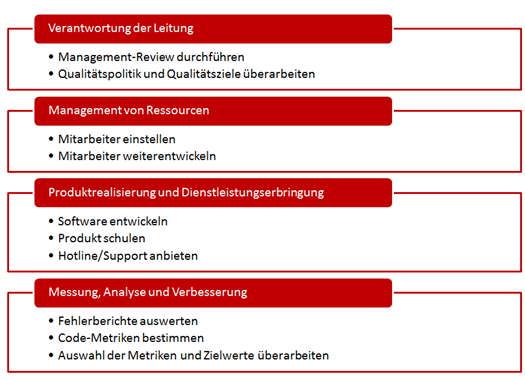 The ISO 13485 requires, like the ISO 9001
a documented quality policy and quality objectives,
the control of documents,
an ensuring of appropriate resources such as human and labor resources,
an appropriate selection of suppliers,
processes for the development, production and service provision and
a continuous measurement (and improving) of the quality or achievement.
ISO 13485 and ISO 9001: Similarities and Differences
The idea of the process areas comes from the ISO 9001, the sister of 'our' standard ISO 13485. Both standards are congruent to 90%.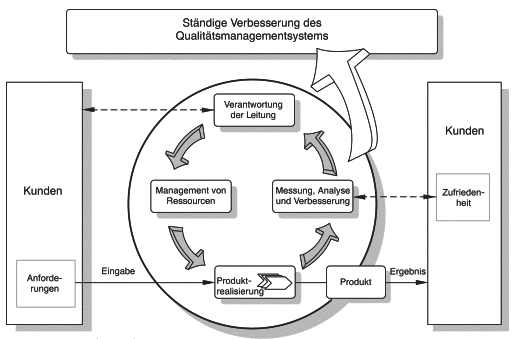 Indeed, the ISO 13485, as opposed to ISO 9001, requires that you only maintain the QMS and not continuously improvement it. But it places additional demands such as
Integration of risk management
Traceability of products
The validation of software for production, maintenance and monitoring
The Clinical Validation
Measures to sterility and cleaning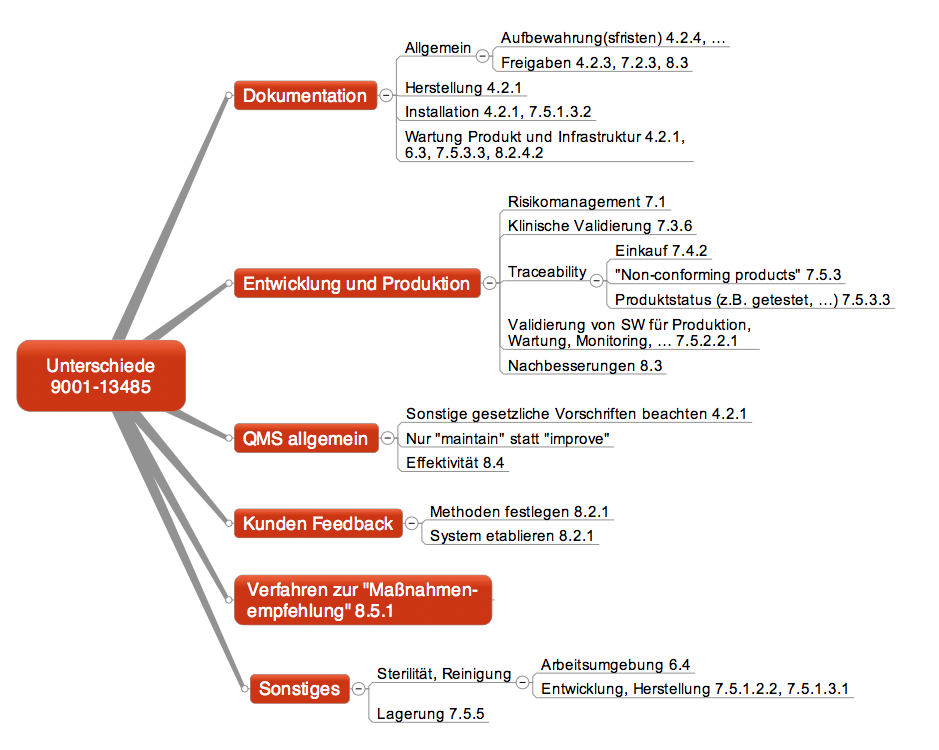 ISO 13485: 2015
By the end of 2015 one expects the publication of the new ISO 13485. However, the changes do not follow the ISO 9001: 2015, which is why the two standards drift a little further apart. For manufacturers who get certified for both standards, this means increased demands. Reference tables in the ISO 13485: 2015 will help to meet these needs.
An overview of the changes in the ISO 13485 can be seen in this one hour video of the BSI.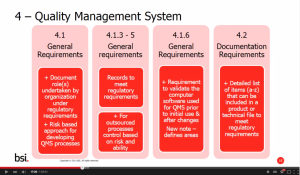 The new ISO 13485 adds, exacerbates or concretises some requirements. For example, it now also prescribes a method to ensure the protection of confidential health data. The planning of the verification and validation and re-validation will be more stringently controlled in the future.
ISO 13485 Certification
The German accreditation body DAkkS published, on its website, the notified bodies and certifiers that are accredited for ISO 13485 certification. Note that the certified bodies (eg in vitro diagnostic medical devices, non-active medical devices, extracorporeal circuits) are only allowed to carry out an ISO 13485 certification for a certain type of medical device.
For example, the website of Dakks currently names only 17 certifiers for in vitro diagnostics manufacturers, the selection reduces to Medcert, TÜV Rheinland, MDC, Dekra, TÜV Süd and possibly TÜV Nord (the "facility" is currently not visible). Interestingly, the ZLG also accepted the DQS med that is accredited by a Canadian authority for IVD. The ZLG does not offer any more certifications.
For the Swiss, one would take a similar approach to the Seco-site, however, there is no company which offers ISO 13485 certification for IVD manufacturers.
Process of ISO 13485 certification
An ISO 13485 certification usually lasts, depending on the size of the company, between two and four days with at least two auditors. There then follows annually two more surveillance audits, which are a bit shorter. In the third year, re-certification is then available, which is the same size as the initial ISO 13485 audit. In between the notified bodies are obliged to do unannounced audits.
Special features for external service providers
Note that the audit for a medical device manufacturer may be extended on the engineering services provider. Read more about this here.
Efficiently launch ISO 13485-compliant quality management system
The Johner Institute has already accompanied far more than 100 companies in the ISO 13485 certification. Without exception, all customers have passed the audit! The support of the auditors and software experts of Johner institution is limited to a few days:
Within a few days you will get a QMS, with which you will not only shine with in the audit, but the efficiency of your processes and, thus, of the team effectiveness will also noticeably increase.