Seminar "Certified Professional for Medical Software"
Learning Objectives and Content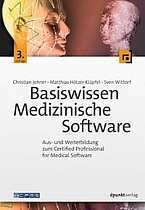 This four-day seminar will prepare you perfectly for the exam "Certified Professional for Medical Software". The participants will learn:
Regulatory frameworks in Europe and the US (laws, regulations, guidance documents, approval processes, conformity assessment etc.)
Quality Management Systems and ISO 13485 / 21 CFR part 820
Risk Management according to ISO 14971
Software lifecycle processes according to IEC 62304 and FDA regulations
Human factors / usability engineering compliant with FDA and IEC 62366 requirements
Documentation, Traceability
Selected topics of IT-security
Contact us for more information about the costs, dates and registration.
What makes the seminar different
Your lecturers are auditors, teach notified bodies and/or help companies to pass audits safely. With their help you will
memorize what you learned due to realistic case studies
safely pass the exam "Certified Professional for Medical Software"
be better at compiling submission documents, developing medical products faster and complying with regulatory requirements and thereby to faster market better products and to avoid regulatory problems
get answers to your specific questions
enjoy four inspiring and interesting days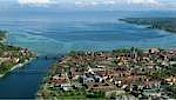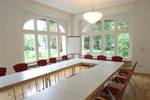 The Johner Institute is one of the accredited ICPMSB e.V. trainings providers. This means, the CPMS-Seminar follows this curriculum. The timetable looks as follows:
| Time | Topic |
| --- | --- |
| Day 1 | |
| Morning | Welcome, Expectations, Introduction, Regulatory Landscape, Differences between EU and FDA |
| Afternoon | Document Management, Quality Management & ISO 13465 |
| Day 2 | |
| Morning | Quality Management II, Risk Management & ISO 14971 |
| Afternoon | Risk management II, Usability & Requirements Engineering & IEC 62366 |
| Day 3 | |
| Morning | Usability & Requirements Engineering II, IT-security |
| Afternoon | Software-Development & IEC 62304 |
| Day 4 | |
| Morning | Software-Development II |
| Afternoon | Personal Q&A, Preparation for the Examination and Examination |
Schedule
We always start at 9:00 a.m. and end at 5:00 pm with exception of the last day: We end at 3:30 p.m. with the lectures. The exam lasts until 4:30 p.m.
The trainers are available until 6:00 p.m. (sometimes even longer) for answering individual questions. We recommend that you set your evening flexible after the seminar. On the second day, we normally go out together in the evening and we would like to invite. Would you like to join us?
In this seminar, the practical approach is right in the foreground. The participants will learn how to implement regulatory requirements for the medical devices and software development quickly and without quality overhead / bureaucracy.
The lectures combine the session with case studies and exercises. We limit the number to a maximum of 16 participants in order to achieve the learning success of the participants and to have sufficient time for answering individual questions.
Target Audience
The seminar "Certified Professional for Medical Software" addresses all persons who are involved in the development of medical devices that contain software or that are standalone software such as
System and software developers,
System and software architects
Project leaders
Regulatory affairs and quality managers
Risk managers
Product managers
Certificate and Examination
How you will successfully pass the CPMS exam
An independent institution has the optional examination to become a "Certified Professional for Medical Software" directly after the CPMS seminar. You will have the highest chance of passing the exam when you
study the book "Basiswissen medizinische Software" (available free of charge and will be sent to you in advance on request),
participate in this seminar actively and attentively and
practice with the Mindmailer, which is an exclusive and free tool for seminar participants. This email based tutorial can be used even after the seminar to consolidate your newly acquired knowledge permanently.
Did you know that you must proof your competencies e.g with respect to risk management and usability engineering? This is a requirement by ISO 13485 and 21 CFR part 820.
The certificate certifies you an in-depth knowledge. Show it to your auditor. This evidence is also highly valued by employers and customers.
Contact us to get more information about the costs, next dates and registration.
Learn from the expert: Your lecturers
Your instructors Matthias Hölzer-Klüpfel, Sven Wittorf and Professor Christian Johner not only prepare you optimally for the exam. They also provide you with the knowledge and skills that will give you security and recognition in your daily work, for example in software development or quality management.

All three are very experienced developers, teach notified bodies and advise medical device manufacturers in the development and quality assurance of medical software. They are also actively involved in the association "International Certified Professional for Medical Software Board".
Cost
The seminar fee is 2,600 EUR (net) per participant. A separate exam fee of approximately 180 EUR net will be invoiced by the certification body.
Direction and Accommodation
Here you can find more information about directions and accommodation.
Questions, tailored seminar
Any questions or comments? Do you want enjoy the seminar on-site? This gives you the opportunity to adapt the content specifically to your needs. Contact us now. We look forward to hearing from you!
"It was an intensive and very good experience, from which I have taken away much for my current employer, their projects and myself.
Doubt appeared in colleagues and acquaintances [...], when I excitedly reported it live via smartphone.
"Seminars are normally like... When's the lunch break going to be?" No, I meant it when I said the "rules and standards? I am hooked!" The seminar also gave "what I thought was dry content" practically and lively, understandably, feasibly and memorably. Exceptional."
Joe Heitz, mediri &GmbH
"I have rarely experienced such an intensive and didactic quality seminar."
Fabian Schneider, Bit-Care