Risk Management and ISO 14971
The ISO 14971 is the standard for the "Application of risk management for medical devices". It describes a risk management process to ensure that the risks are known and dominated by medical and are acceptable when compared to benefits. This process intends to include the following steps:
Define risk acceptance criteria. This is often done in the form of a risk acceptance matrix.
Risk Analysis Part 1: Identify the risks of the medical device derived from the intended use
Risk analysis Part 2: probabilities, heavy grade, and thus risk estimate. Decide on the acceptability of those risks
Define and implement risk minimisation measures, if the risks are not acceptable
Analyse new risks through such measures
Decide on the acceptability of risks (again)
Watch the product in the market and continuously analyse risks and decide on new risk acceptance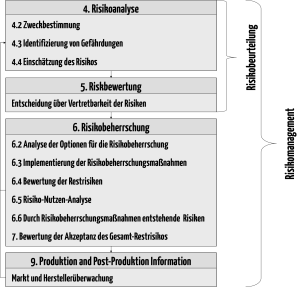 The harmonised standard ISO 14971
The standard for the application of risk management for medical devices
The standard ISO EN DIN ISO 14971 requires that
in medical devices, the risk policy is to be formulated,
a risk analysis is performed (here you can apply methods for risk analysis such as FMEA, FTA and PHA method)
the risks must be assessed according to the risk policy
the risks must be minimised as much as possible
and the effectiveness of risk minimisation measures must be examined.
The ISO 14971 is published as a harmonised standard by the national standardisation body as DIN 14971 or 14971 OE (Austria). Read more about how it comes to prefixes DIN EN ISO 14971.
Changes to the standard by the ISO 14971: 2012
Here you will find information on the changes by the ISO 14971: 2012 (Annex ZA).
Audit event risk management
Review 2013: Will the 14971: 2012 be withdrawn?
I received the question, whether the ISO 14971: 2012 should be withdrawn? By the Beuth publisher it would already be no longer available, it would be listed as withdrawn. In a first demand I get the answer, something you've heard.
This is not true, which I know now, thanks to Oliver Christ of PROSYSTEM in Hamburg and a colleague from the Beuth-Publisher. One writes to me:
"The DIN EN ISO 14971: 2013 has not been withdrawn because it has also not yet been published. The background of the rumor is probably that the manuscript was available as a standard at the Beuth publisher. This manuscript was "withdrawn", but that only means that it is no longer available !!! The normal publication process continues and the standard will be published in April 2013. "
Mind you, it comes to the German edition of the standard. Whether they are now relieved or frightened, I can not judge. At least we have clarity.